Threads is a new app from Meta made as a text-based offshoot of Instagram. If that sounds like yet another competitor cashing in on the Twitter turmoil like Bluesky, Mastodon, or Post, you've got the right idea. The existence of the app and service was first revealed a few months ago and has been in testing with lots of celebrities, brands, and influencers. You can download the Threads app from the App Store, where a preorder placeholder has been available for a couple of days.
The app is designed to get a boost from one of Meta's most popular services, Instagram, with heavy integration between the two. Threads is listed as "an Instagram app" in its titles on app stores, and users will log in with Instagram accounts, where they can then very easily follow all the accounts they follow on Instagram. If you're verified on Instagram, that will carry over as well.
Looking for Macworld on Threads or Instagram? We're @Macworld_hq.
You'll be able to post text up to 500 characters–shorter than Twitter's new limits but much longer than the older 280-character limit–along with photos, links, and videos up to 5 minutes long.
Privacy and protocols
While the app and service is now open to the public, it's worth pointing out that the 100-country launch does not include any within the European Union. Meta has been at odds with the EU over privacy laws for some time now, and it appears that Threads will not meet the EU's requirements there.
Just a glance at the App Privacy label in the App Store should tell you why: Instagram (i.e. Meta) is grabbing tons of data that can be linked to you, including obvious stuff like usage data and diagnostics but also Financial Info, Contact Info, Purchase History, Heath & Fitness data, and more. Apple has protections in place to make some of this stuff opt-in, but suffice it to say that Threads is going heavy on user tracking, perhaps even more than most major social media networks do.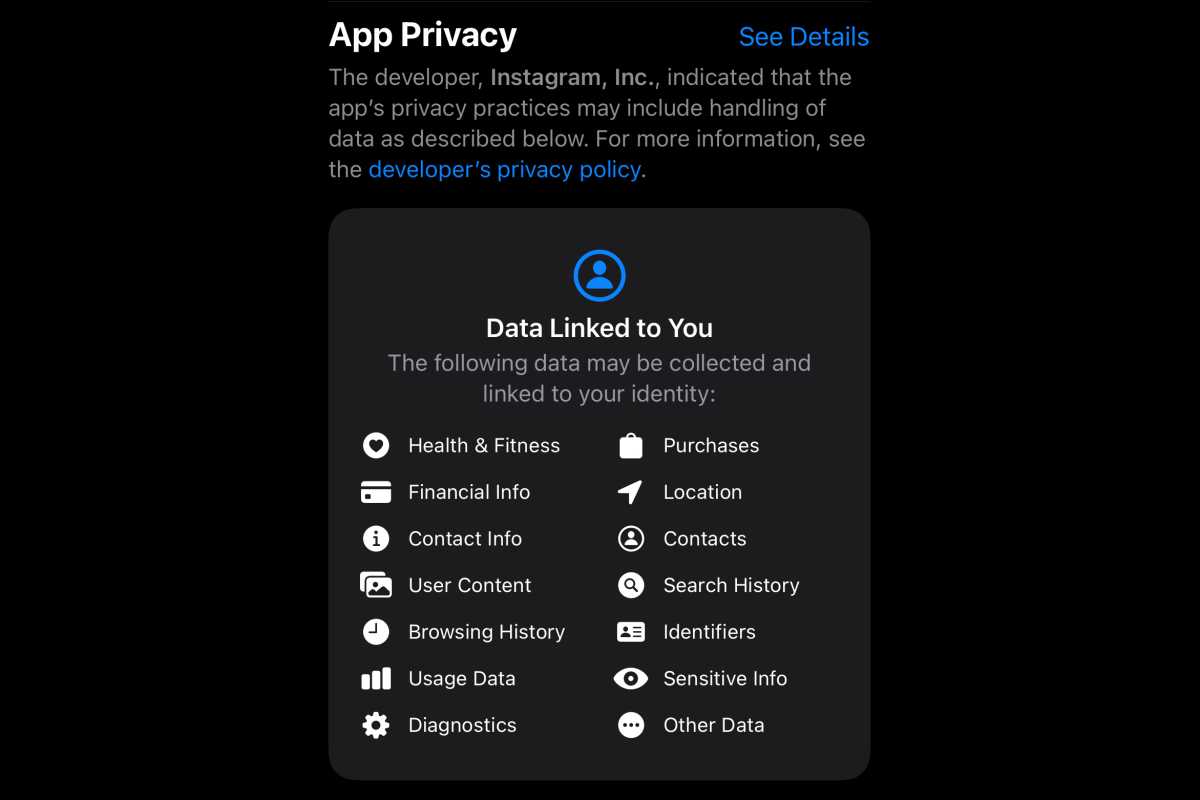 Foundry
Meta has promised to build support for the ActivityPub protocol, the same decentralized network protocol used by Mastodon. Head of Instagram Adam Mosseri explained that it's coming, but not in time for launch, saying, "We weren't able to finish it for launch given a number of complications that come along with a decentralized network, but it's coming." You'll one day be able to use Theads to access the "fediverse," but for the time being Threads is just what it claims to be: "an Instagram app."